New Expansion Pack - Enabling Custom Content
It is important that these steps are done in order:
Step #1: Before you install any new TS2 expansion pack, temporarily remove your entire "../Downloads" folder then put it back in after you complete the installation. If you have downloaded any patches, remove them entirely before installation because their requirements will probably change after the new expansion is installed. As many of you know, this step is necessary to allow a new expansion to write to the game files properly. FYI, Simslice only has two TS2 patches at this time (the "Plum Bob Crystal Routing Patch" and the "Santa Patch").
Note: Don't skip ahead -- it is very important that you do these steps in this order.
Step #2: There is a new feature that is in Nightlife & later expansion packs (Seasons, Bon Voyage, etc.) that displays a pop-up dialog box that lists all your custom content. Basically you'll want to "Enable" them so you can continue to use your downloads. All Simslice downloads are safe and forward-compatible. The screen looks something like this (it was cropped for spacing purposes):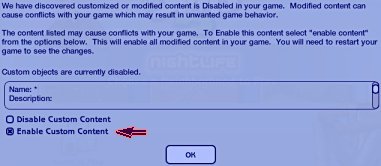 After you install the new expansion, quit the game (if you ran it) and put your "../Downloads folder" back in and run the game again, the new expansion scans the downloads folder (a.k.a. Custom Content) and pops up this message notifying you that custom content was detected, and the default option is probably set to "Disable" them (which makes them not show in Buy Mode). If so, you'll want to change that. The new expansion pack is intending to perform a safety check so although this feature was probably well-intended, it is also misleading because safe downloads are also listed (in all probability all listed items are safe). So just check the "Enable Custom Content" checkbox to continue. I even put a waaaaaay cool lil' red arrow there for ya. :p
Step #3: Now, this new... "feature" is also likely to be defaulted to pop this same message up each and every time you run the game... which will prove to be frustrating over time for anyone who uses custom content. But you can easily change that in the game under "Game Options" if needed. Here's how:
Go onto any lot, then click on "Options (F5)" --> then click "Game Options". Your screen should look something like this:
The upper right part of the screen (where my lil' red arrows have made another appearance) shows the already familiar "Catalogs Display Custom Content" feature which you should already have checked "On" (if not, then set it to "On" now). The newer feature we've been talking about is shown in the lighter box to the right labeled, "Display Custom Content Dialog at Startup". Set this to "Off".
NOTE: Each time a new expansion is installed, this setting MIGHT reset back to "On" (it depends on the expansion)... so you might have to go through all these steps again with each new expansion pack you install.
Step #4: After doing all this, don't be surprised if you still don't see your custom content in Buy/Build Mode -- that's normal. You will need to quit and restart your game to see them. Congratulations, your custom content has been enabled!
That's it!
Feel free to share this with anyone you think might find it helpful
Troubleshooting Tips: If you still don't see your custom conent, did you do step #3 before step #2? If you did, you will not see the dialog box in Step #2 when the game loads because you turned that feature off in Step #3, and since that feature is initially set to "Disable" all custom content, you will not see any of your downloads in the game. If this happened, you do NOT need to reinstall the game to resolve this. You only need to start the game and set the "Display Custom Content Dialog at Startup" setting (in Step #3) back to "On". Then quit/restart the game and then repeat the steps above starting with Step #2. No problem. :)
I hope these steps help you enjoy the new expansions as well as all your favorite downloads too. As always, if you have any questions feel free to contact us at anytime. :)
-Homeslice
________________________________________________________________________________________________________
Simslice Homepage
http://www.simslice.com
Originality... Creativity... Quality...
Striving to be your favorite source of fun
and unique objects for The Sims games
---